Maria da GlÓra Moreira & Antero de Frias Moreira
CENTRO PORTUGUÊS DE SINDONOLOGIA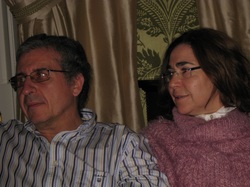 This article was adapted by the book written by Dr. Moreira, titled, «Sudário de Turim, mortalha de Cristo ou fraude Medieval?» released April 2012 in Portugal. (Shroud of Turin, Shroud of Christ or medieval hoax?)

This article debunks in a comprehensive way most skeptic theories of image formation.

Dr. Moreira is a medical doctor in the field of Physical Medicine & Rehabilitation and a passionate Shroud researcher since 2005.
He has also been assigned the position of executive director of the Centro Português de Sindonologia .

His wife, Maria is the secretary of Centro Português de Sindonologia and was a former fashion designer, and is now presently teaching catechesis at my parish of Ramalde in Oporto city since 1999.
---
controversies_concerning_the_image_of_the_man_of_the_shroud.doc
File Size:
158 kb
File Type:
doc
Download File
---